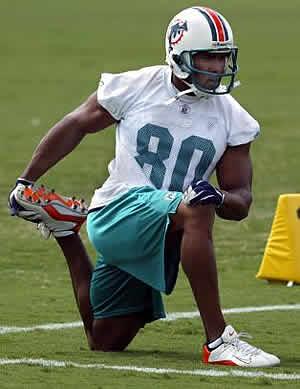 Acquired from SD to boost the WR corps, WR David Boston is done for the season in Miami.
What else can go wrong in 2004?
First Miami misses the playoffs despite a 10-6 record. Everyone thought that would mark the end of the Wannstedt era in Miami. Nope, good ol' Wayne gives wanny a 2 year extension. Stips him of his GM power, but prmotes his long time buddy Rick Spielman to GM. Hires Dan Marino to over see all this, only to have Marino to quit after 3-weeks. Gives Philly a 2nd round pick for our "QB of the Future", "The next Dan Marino". This was suppose to mark the end of the Fiedler Era. Nope, the wanny/fiedler love fest still continues as fiedler sits atop the depth chart. Then suddenly Ricky "Panama" Williams quits on the fins just 1 week before the start of training camp, claiming he wants to be free. 2 weeks later, he tells SI he would consider a comeback for the raiders. Hmmmmmm…….noticing a trend here? And now, one of our biggest pickups in the offseason, David Boston is done for the season. Bad team, bad karma, bad whatever you want to call it…..I call it "The Wannstedt Demise"! Boston was hurt trying to run under a "Deep pass from jay fiedler"……..Fiedler is QB because of wanny…Ricky is gone because of wanny, Spielman is here because of wanny, and the team is going nowhere in '04 due to "The Wannstedt Demise".
8/6/04 -

WR David Boston is done for the season after tearing his patellar tendon .

8/5/04 -

Miami signed Chris Chambers to a 5 year extension. Bout time something goes right with Miami!

8/4/04 -

Ex-RB Ricky Williams told a SI reporter he would consider playing for the Raiders in 2005.

8/02/04 -

Ricky Williams has filed his retirement papers with the NFL.

7/31/04 -

The Miami Dolphins start training camp today with all 6 of their draft picks signed.
"Even for me it seems strange,"

- Barry Sanders on Williams Retirement

"I applaud him. You can't be a free thinker if you only think the way everyone else does. " - HOF and close friend, Jim Brown, on Williams retirement

``crazy fans who would expect a weirdo.'' Ex-RB Ricky Williams about playing in Oakland.

"What we were doing, handing the ball to me every time, wasn't real football" - Williams to LeBatard by Cell Phone
Other site features coming soon…………

1. TRAVIS MINOR:

He continues to show a nice burst through holes when he has any type of opening, breaking a couple of plays that looked like runs of 20 yards or longer. Minor's best attribute is that he doesn't dance around at all.- Now that's what I am Talking about………Hey Ricky, maybe one of your stops could be in Baghdad….We don't need your weird shit around here we have enough of our own.. Click Here for Story.

Williams Interview!!

Ricky gives first live interview along side his new agent Jimmy. Check it out, pretty funny. Be sure to note Coach Bumstedt and his reaction in the end….. Ricky Interview! ß Click here.
Sept. 12 Tennessee
Sept. 19 @ Cincy
Sept. 26 Pittsburgh
Oct. 3 NY Jets
Oct. 10 New England
Oct. 17 @ Buffalo
Oct. 24 St. Louis